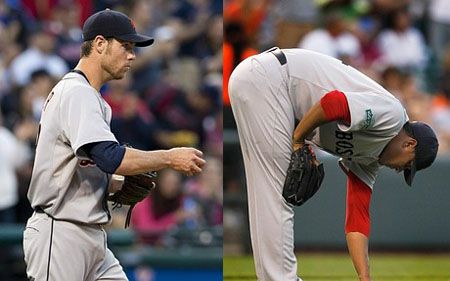 After losing two-of-three to the Tampa Bay Rays over the weekend, the Boston Red Sox welcome to the Detroit Tigers to Historic Fenway Park this afternoon for the first game of a four-game set.
First pitch is scheduled for 1:35 p.m. and the game will be broadcast on NESN in the Red Sox television market. If you live in the Tigers television market, you can catch the game on Fox Sports Detroit. If you can't catch the television broadcast, you can always listen to it on the Red Sox radio network.
Felix Doubront looks to get the Red Sox back to .500 in his 10th start of 2012. In his previous nine starts, Doubront is 4-2 with a 3.96 ERA. He has never faced the Tigers in his career.
Doug Fister is also looking to get his team to the .500 mark in his sixth start of 2012. In his previous five starts, Fister is 0-2 with a 1.84 ERA. He picked up a no decision in his only start of 2012 against the Red Sox when he threw 3.2 innings of shutout ball before leaving with an injury. He's made five career starts against the Red Sox and is 1-2 with a 2.89 ERA (9 ER/28 IP). Two of those starts have come at the Fens where he is 1-1 with a 1.50 ERA (2 ER/12 IP).
Click on the read more button below to see today's lineups, batter/pitcher matchups and links from the overnight and day if you're on the home page.
Here are today's lineups:
And here is how the hitters have fared against today's starting pitchers: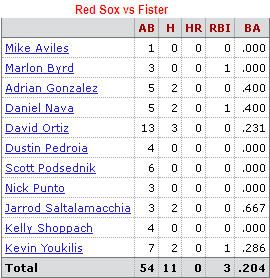 NOTES: As you can tell from the lineup, Sweeney has been activated from the seven-day DL. To make room on the 25-man roster, Che-Hsuan Lin was optioned to the PawSox.

REFRESH OR CHECK BACK OFTEN AS MORE LINKS WILL BE ADDED BEFORE GAMETIME IF/WHEN THEY BECOME AVAILABLE AND WILL BE BOLDED
To open the links up in a new tab or window, use Control+click
Long faces [Boston Globe]
Gonzalez had a blast – up until the end [Boston Globe]
A no-win situation [Boston Globe]
Red Sox again can't get over hump [Boston Herald]
Red Sox have changed for better [Boston Herald]
Good old Clay [Boston Herald]
Aceves' stellar run hits snag [Boston Herald]
Alfredo Aceves, Red Sox blow it [Boston Herald]
Ryan Sweeney returns; Adrian Gonzalez in RF; Daniel Nava leads off [Clubhouse Insider]
Aceves blows late lead as Sox fall to Rays, 4-3 [CSN New England]
Strong outing, but no win for Buchholz [CSN New England]
Aceves' blown save snaps nine-game streak [CSN New England]
Gonzalez homers in the midst of struggles [CSN New England]
Sweeney (concussion) starting in centerfield [CSN New England]
Iglesias coming on strong [ESPN Boston]
Rapid Reaction: Rays 4, Red Sox 3 [ESPN Boston]
Aceves blows Buchholz's best start of 2012 [ESPN Boston]
Boston Red Sox are getting it together despite dropping an emotional series to Tampa Bay Rays [ESPN Boston]
Nick Punto knows bench-clearing altercations (thanks to Izzy Alcantara) [Full Count]
Closing Time: Alfredo Aceves, Red Sox give it up in the ninth, fail to go over .500 [Full Count]
Adrian Gonzalez, Will Middlebrooks explain two pivotal defensive plays [Full Count]
Adrian Gonzalez Thinks Jarrod Saltalamacchia Should Get Consideration as All-Star [NESN.com]
Which Red Sox Outfield Addition Will Have the Biggest Impact This Year? [NESN.com]
Red Sox, Yankees, Angels Among Surprises and Disappointments as MLB Season Enters Summer Stretch [NESN.com]
Adrian Gonzalez Happy to Put Red Sox Ahead With Three-Run Homer, Not Happy With Loss (Video) [NESN.com]
Adrian Gonzalez Starting to Find Power Stroke, Says He Now Has 'Consistent Feel' [NESN.com]
Clay Buchholz Leans on Improved Changeup to Finally Provide Stability, Longevity in Start [NESN.com]
Yankees Are Florida's Favorite Baseball Team, Poll Shows, With Red Sox, Rays, Marlins Not Far Behind [NESN.com]
Which Ballpark Food Is Your Favorite? [NESN.com]
Aceves' saves streak ends in Boston's loss [RedSox.com]
Doubront takes the hill in opener vs. Detroit [RedSox.com]
Kalish: 'I've just got to push through it' [SoxProspects.com]
For more slices of Red Sox goodness, head over to the Boston Globe, Boston Herald, CSN New England, ESPN Boston, NESN, Providence Journal, RedSox.com and WEEI websites.
And if you must check out the enemy news, head over to the Tampa Bay Times and Tampa Tribune websites.
Follow Ian on Twitter @soxanddawgs. And be sure to like us on Facebook as well.
photo credit: Getty Images, Getty Images